CALLING ALL BRIDESMAIDS!
We've walked through all the latest bridal trends for Spring 2020 and now it's time to give your supporting ladies some love! Your ultimate style guide is here with all the latest on 2020 Spring bridesmaid dresses and trends! Keep scrolling for an exclusive look!
ALL ABOUT THE SKIRT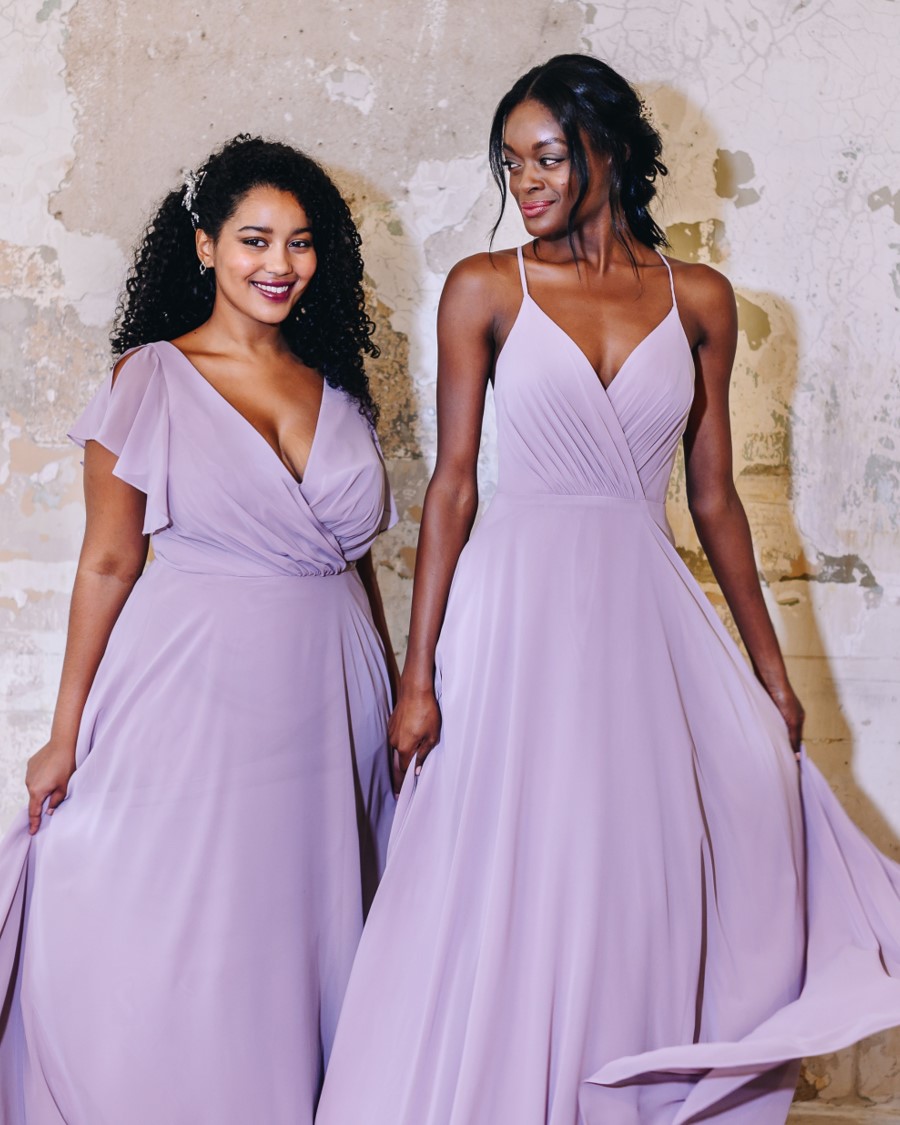 Styles F20065 and F20064 in Lavender Haze
You read that right! It's time for full skirts to have a moment for Spring 20! Some of our newest dresses for maids feature a full sweeping skirt, perfect for the walk down the aisle and twirls all night long. These chiffon looks are complete with a pretty surplice bodice that will flatter all your besties, AND come in an array of different sleeve options (who doesn't love a good mix and match moment!). Bonus trend: Say hello to Lavender Haze, our new dusty purple shade and the ultimate Spring must-have color for bridesmaids!
A NEW WAY TO SHINE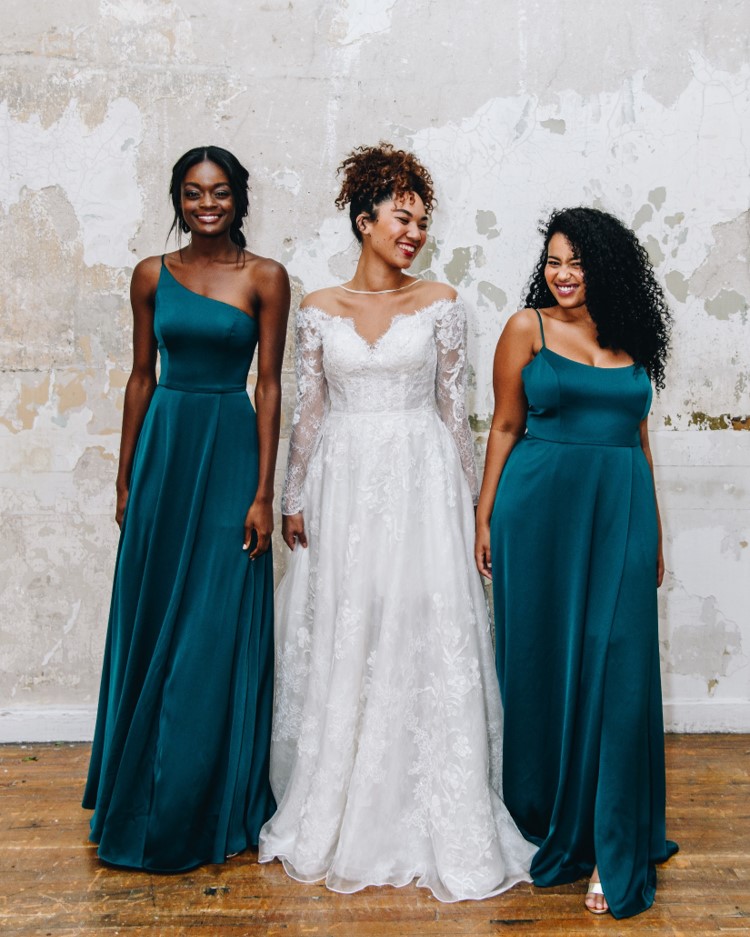 Styles F20095 and F20099 in Gem 
Introducing a new fabric fav: crepe back satin. Unlike sequins or metallic lace, crepe back satin is a new, lustrous way for your bridesmaids to shine. The glossy, luxe fabric catches the light beautifully on the outside while the stretch crepe underneath provides ultimate comfort and elegant draping.
SLEEK AND SOPHISTICATED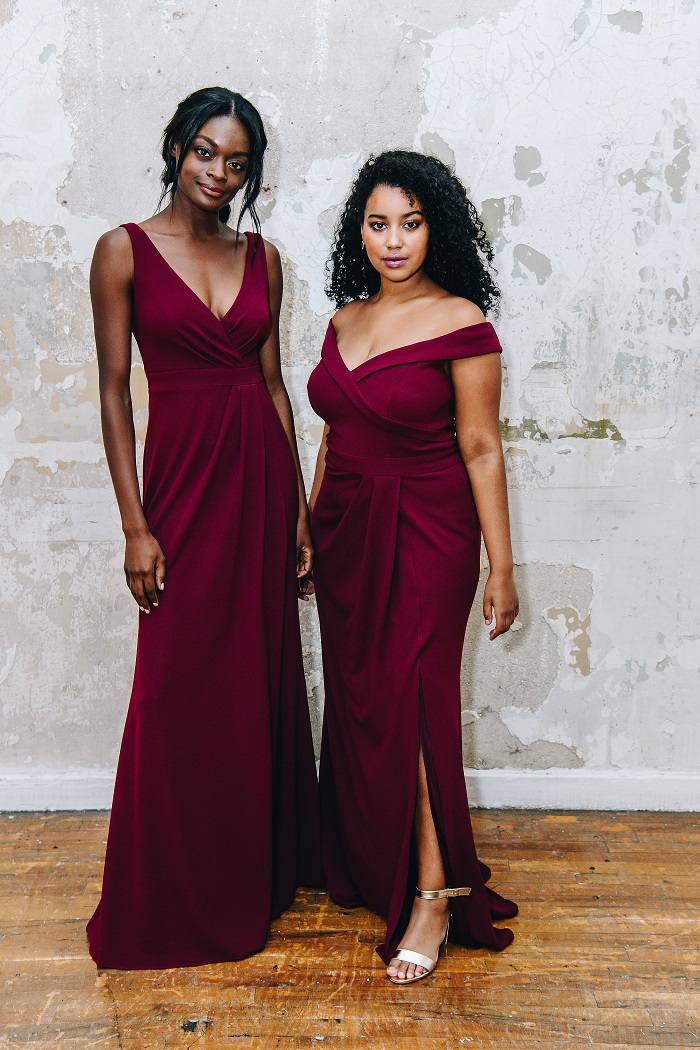 Styles F20106 and F20104 in Wine
Going for a more regal look for your wedding? We've got you covered! These oh-so-sleek and sophisticated bridesmaid dresses are so on trend for Spring 2020! The simple but strategic draping of the fabric on these dresses accentuate the figure, and the added slit and/or off the shoulder action gives a little sexy touch.
LIGHT AND AIRY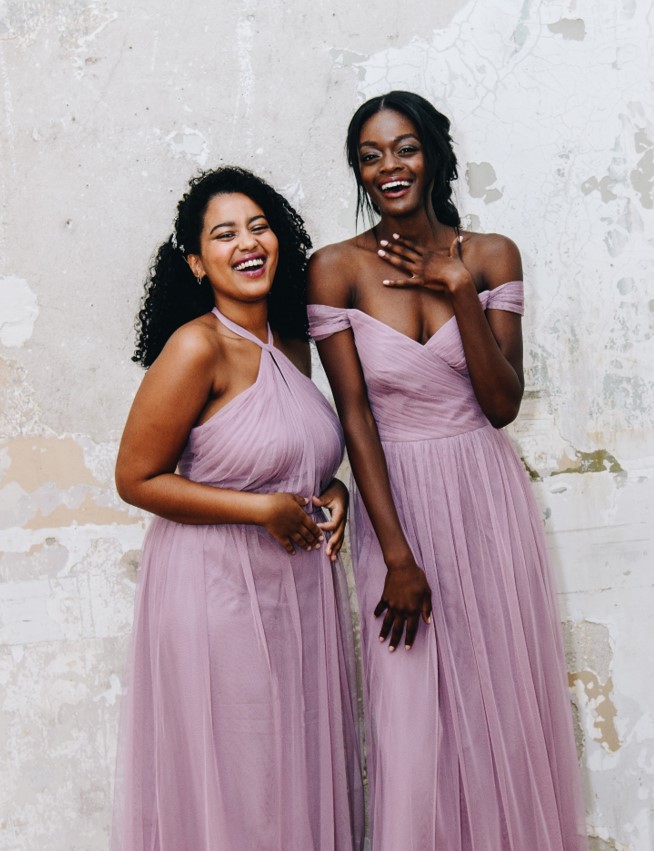 Styles F20115 and F20116 in Quartz
Embrace an ethereal wedding-day vibe and have your maids wear allover tulle! This new, soft net fabrication takes romantic and whimsical to a whole new level, with a super soft feel so your bridesmaids will feel comfortable all night long.
NEW HUES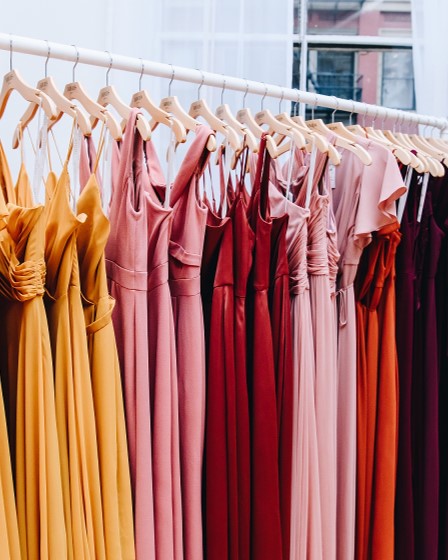 If you know anything about us, you know we love color. In addition to Lavender Haze we teased earlier (which rounds out our dusty color offerings), we are also bringing two more colors into the #DBMaids mix: Marigold, a yellow-orange color inspired by the beloved flower, and Cinnamon, a spicy, burnt red-orange hue. Our current favorite way to wear these new colors? Paired with shades of reds, oranges, and corals for a dreamy, sunset-inspired party.
Please follow and like us: